This Friday February 7th at 4:30pm in McCormick 101, Professor Alexander Pruss, a philosopher at Baylor, will be visiting Princeton's campus to givea public talk about Christian Sexual Ethics and its philosophical and theological foundations. After the talk, a  group of Anscombe members and Christian student leaders will meet with him for dinner. We're really looking forward to the talk and dinner because Professor Pruss is one of the most brilliant Christian philosophers today.
We've invited him to speak about sexual ethics because he's recently published a book One Body on the topic. Professor Robert George called this book "quite simply the best work on Christian sexual ethics that I have seen," and we recommend this review on Public Discourse to get a sense of it.
(Pruss' lecture was originally scheduled for December but due to inclement weather and flight cancellations we had to reschedule for this week)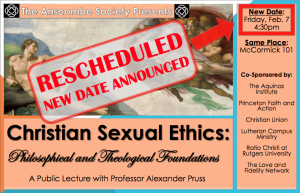 Please check out the Facebook event for the talk itself! Also have a look at Professor Pruss' blog, which he updates almost daily with interesting philosophical posts.