Come watch filmmaker Jennifer Lahl's new documentary Breeders: A Subclass of Women?. This documentary explores the unintended consequences of surrogacy, as well as the moral and social implications of this increasingly common arrangement. A discussion and Q&A with Ms. Lahl will follow the screening. For more information, see the facebook event and the poster below.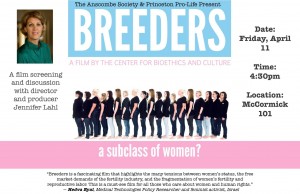 This event is co-sponsored by Princeton Pro-Life
From the film's website:
"Surrogacy is fast becoming one of the major issues of the 21st century—celebrities and everyday people are increasingly using surrogates to build their families. But the practice is fraught with complex implications for women, children, and families. What is the impact on the women who serve as surrogates and on the children who are born from surrogacy? In what ways might money complicate things? What about altruistic surrogacy done for a family member or close friend? Is surrogacy a beautiful, loving act or does it simply degrade pregnancy to a service and a baby to a product? Can we find a middle ground? Should we even look for one?
From The Center for Bioethics and Culture, producers of the award-winning Eggsploitation (2010, 2013), and Anonymous Father's Day (2011), Breeders: A Subclass of Women? explores this important issue, talking with surrogates, physicians, psychologists, and activists across the political and ideological spectrum."