This week we'll be discussing the "Doctrinal Principles" section of the 1968 papal encyclical Humanae Vitae. This document is the go-to source for the case against contraception, and many of its predictions about a contraceptive culture's consequences have been especially prophetic. The meeting will be at 6:30 in Rocky Dining Hall; all students are free to come and join us!
Also, register for the Love and Fidelity Network's annual conference "Sexuality, Integrity and the University" here. It'll be November 8-9 on Princeton's campus, and Princeton students can attend for free!
Mark your calendars for October 17 when Ryan Anderson gives a packed-house lecture on same-sex marriage!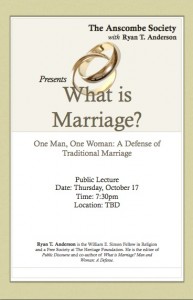 Finally, I'd recommend checking out the Leadership Institute for students interested in learning more about activism and politics. They're great folks!